With origins in Sutton-in-Ashfield, Nottinghamshire, UK, deep in the heart of Sherwood Forest and Robin Hood country, this branch of the clan was first spotted in Canada in May 1956 on the banks of the mighty "Fleuve Saint-Laurent" near Québec City.
It is a courageous act to leave behind all that you knew to move to a new country with nothing but a few possessions and lots of hope and dreams. A young family arrived in Canada that day to start a new life for themselves and their 10 month old son. Arriving in Montréal on the Empress of Scotland, we must have looked "lost and forlorn". Our first impression of this new land was the kindness of the customs and immigration officer, Adolphe, who not only invited us to stay with him and his family until we were able to find a place of our own but who also helped my father find a job that first week. Our first home in this new land was a basement apartment on Delorimier Avenue in Montréal.
Since then this family, adding a few more members along the way, has migrated from one end of this beautiful country to the other with stops in Montréal, Dorval and Pierrefonds in Québec followed by a move west to North Vancouver, British Columbia.
In 1965, the family moved back to England, living in Annesley Woodhouse, Nottinghamshire, UK, just a few miles from Newstead Abbey, the home of the poet Lord Byron.
After a year and a half, Dorval once again beckoned. It was different this time because the nomadic urges were starting to wane. The family stayed in Dorval for 15 years. By the early 1980's the children were starting to leave the nest (about time the parents were heard to say!) getting married and having children of their own.
In 1982, the main branch of the family moved first to Alexandria, Ontario (not Egypt) and finally Almonte, Ontario where they live today.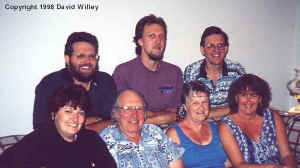 This Canadian branch of the Willey family is shown in the photo at left. In the front row are Marilyn, Albert, Betty and Pat. The three good-looking men in the back are Peter, Don and David. David and his family have been spotted at times in Notre-Dame de Grâce, Québec and Navan (Notre-Dame des Champs), Ontario. Peter and his family have flitted from Lachine, Québec, to Sutton-in-Ashfield, UK, to Gatineau, Québec and finally settling in the Almonte/Carleton Place area. Marilyn and her family, as well as Don, are still in Almonte. Pat and her family live in Lancaster, UK.