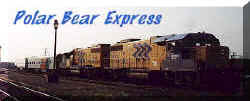 The Willey Travel Guide: The Polar Bear Express
By David and Christopher
Vacation planning is not always easy. 1996 was no different. I find it somewhat difficult to get my head around summer vacation when I am hitting the slopes of Mont. Ste. Marie in the middle of February. However, since 1992 Christopher and I had made an almost annual pilgrimage (1992, 93, 95, 96 and 97) to a wonderful "base de plein air" (all inclusive four seasons resort) located in St. Michel des Saints, Québec. Nouvel Air Matawinie is situated on Lac à la truite (Trout Lake), not far from the massive Résevoir Taureau with its kilometres of sandy beaches. The rooms at the resort are small but modern, comfortable and nicely appointed. The food is plentiful and usually once a week (Saturday normally) they serve a gastronomic meal...for adults only (the kids have their own dinner). There are activities for all ages and includes water sports. While English is spoken, the language of the resort is largely French. This is a great way to take French immersion.
But I wanted to do something different for the second week. I read about a train excursion to James Bay in the travel section of the paper. What caught my eye was the name of the excursion - The Polar Bear Express. Since I had spent a week at the northern tip of Québec on a work assignment back in the early 1980's I had visions of a desolate, treeless tundra and perhaps the chance to see northern wildlife... including polar bears.
The Polar Bear Express is operated by the Ontario Northland Railway and runs from Cochrane, located on the Trans-Canada highway in Ontario's Near North tourist region, to Moosanee, located on the Moose River a few kilometres from the Ontario side of James Bay. The return journey can be done in a day, leaving early in the morning, spending the afternoon in Moosanee and returning in the evening. However, we decided to spend two nights "up north".
More to come.